Garlic Rosemary Lamb Chops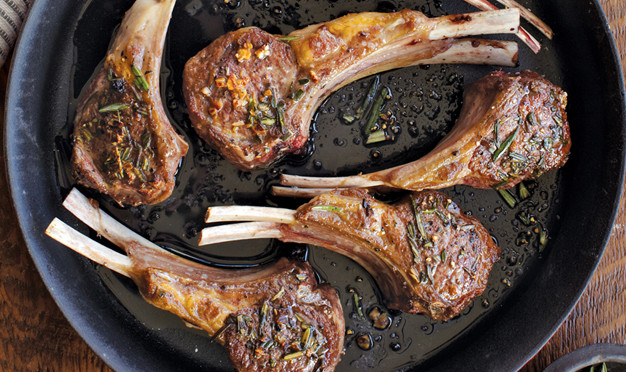 YIELD: 4 servings / ACTIVE TIME: 5 minutes / TOTAL TIME: 2-4 hours
Ingredients:
● 8 lamb chops
● 4 sprigs Fresh rosemary
● 1 Tablespoon butter
● 1 tablespoon garlic powder
● Salt and pepper
Directions:
1. Pre-heat water bath to 134ºF(56.6ºC).
2. Season the chops all over with garlic powder and salt and pepper or favorite rub.
3. Add the chops into two bags along with fresh rosemary.
4. Seal the bags using a vacuum or displacement method.
5. Place the bags in the water bath and cook for at least two hours and up to four.
6. Remove the chops from the bag and place on a paper towel-lined plate. Pat dry on all sides.
7. Heat a large cast iron or stainless steel skillet with one tablespoon of oil over medium-high until oil is shimmering.
8. Add garlic to oil and cook for 30 seconds, until fragrant.
9. Add the chops and rosemary to the skillet.
10. After 45 seconds, or when the cooking side has developed a nice, brown crust, flip the chops with tongs.
11. Add one tablespoon of butter to the skillet and let melt, spooning the melting butter over the pork. Cook for 30 seconds. Continue until all sides are browned.
12. Remove chops from heat and serve.
Don't forget to sign up!
Find out early about all upcoming promotions and new products releases
Name:

Susan
Tel:

86-755-23312936
Email:
Address:

2/F, Building C, Min Le Industrial Park, Minzhi, Long Hua District, Shenzhen, China