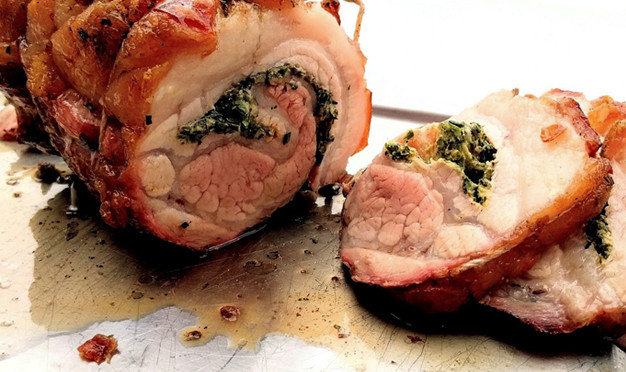 Yield: 12 servings
Active Time: 2 hours
Total Time: 36 hours
Ingredients:
● 1 whole boneless, rind-on pork belly, about 12 to 15 pounds
● 2 tablespoons whole peppercorns
● 3 tablespoons whole fennel seed
● 3 tablespoons finely chopped fresh rosemary
● 12 cloves garlic, minced
● Salt and freshly ground pepper
● 2 teaspoons baking powder
● 2 quarts peanut oil or lard
Directions:
1. Using a sharp knife, score the pork skin at 1-inch intervals.
2. Turn 90 degrees and repeat to create a diamond pattern in the skin only.
3. Heat a small skillet over medium-high heat and toast peppercorns and fennel seed until lightly browned, about 2 minutes. Grind until roughly crushed.
4. Season pork liberally with salt and pepper then rub in the crushed pepper and fennel, chopped rosemary, and garlic.
5. Roll belly into a tight log
6. Cut several lengths of kitchen twine and truss roll at 1-inch intervals.
7. Combine 2 tablespoons salt with 1 teaspoon baking powder and rub over the surface.
8. Seal in bag and refrigerate overnight
9. Preheat water bath to 155°F.
10. Add pork and cook for 36 hours.
11. Transfer pork to an ice bath chill for 15 minutes.
12. Remove from bag and discard cooking liquids.
13. Rince porchetta under hot running water to remove all excess fat and pat dry with paper towels.
14. Heat peanut oil or lard over high heat in a large pot Dutch oven to 400°F.
15. Gently place pork into oil using tongs.
16. Cover and cook, shaking the pan occasionally, about 2 minutes.
17. Spoon hot oil over the pork until the bottom half is cooked and crisp, about 5 minutes.
18. Carefully flip and cook on second side, repeating basting process.
19. Remove porchetta to a large paper towel-lined plate and blot dry.
20. Season with salt and pepper.
21. Let rest 5 minutes.
22. Carve and serve immediately.
Don't forget to sign up!
Find out early about all upcoming promotions and new products releases
Name:

Susan
Tel:

86-755-23312936
Email:
Address:

2/F, Building C, Min Le Industrial Park, Minzhi, Long Hua District, Shenzhen, China