Salad with Sous Vide Chicken Recipe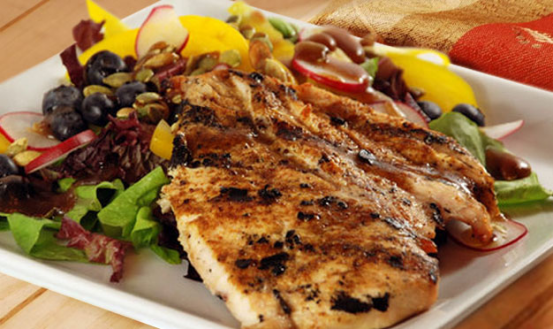 I used a spicy vindaloo seasoning on the sous vide chicken to give it some bite and help flavor the salad. I cooked it for a few hours at 141°F (60.5°C) then grilled it for a few minutes to get the crust on it. For the dressing I used a simple white wine vinaigrette.
You can use anything in the salad you want but here I used lettuce and radishes from the garden and some yellow peppers for color and crunch. I also tossed on fresh blueberries since they are in season and I can't get enough of them. I also topped it with roasted seeds for texture and saltiness.
For the Sous Vide Chicken
4 chicken breasts
3 tablespoons vindaloo seasoning or other spice mixture
Salt and pepper
For the Salad
4 plates of mixed lettuce
1 yellow pepper, cut into slices
6 to 8 radishes, thinly sliced
1/2 cup blueberries
1/4 cup roasted seeds or sunflower seeds
4 to 6 tablespoons olive oil
3 tablespoons white wine vinegar
Salt and pepper
For the Sous Vide Chicken
At least 3 to 5 hours before serving
Preheat the water bath to 141°F (60.5°C).
Salt and pepper the chicken and sprinkle with about 1 tablespoon of the spice mixture. Add to the sous vide pouches, seal, and place in the water bath. Cook the chicken for 2 to 4 hours.
To Finish
Preheat a grill to high heat.
Take the sous vide chicken out of the pouches and pat dry. Liberally sprinkle with the remaining spice mixture and let sit for a few minutes. Sear them on a very hot grill for 1 to 2 minutes per side. Remove from the heat.
To make the vinaigrette combine the vinegar, salt, and pepper in a bowl. Then slowly whisk in the olive oil.
To Assemble
To serve, place the greens in individual bowls or on plates. Top with the bell pepper, radishes, and blue berries. Add the chicken and spoon the vinaigrette on top. Add the roasted seeds and serve.
Don't forget to sign up!
Find out early about all upcoming promotions and new products releases
Name:

Susan
Tel:

86-755-23312936
Email:
Address:

2/F, Building C, Min Le Industrial Park, Minzhi, Long Hua District, Shenzhen, China