Hanger Steak Recipe with Succotash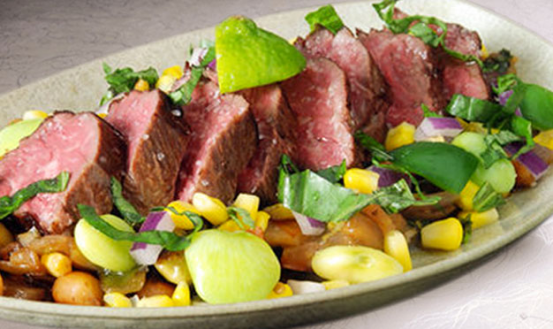 Ingredients for Sous Vide Hanger Steak with Succotash
·
For the Hanger Steak
·
2 pounds hanger steak (900 grams)
·
Salt
·
1/4 teaspoon steak seasoning or chili powder
·
For the Succotash
·
Olive oil
· 1 red onion, diced
· 2 garlic cloves, minced
· 1 poblano pepper, diced
· 2 cups corn kernels
· 2 cups lima beans
· 2 tablespoons butter
· 1 lime
· To Assemble
· 1 lime
· Basil, chopped
· Salt
Want more great content like this? My free Exploring Sous Vide course will help you get the most out of sous vide. You can start consistently creating amazing food with sous vide today!
Cooking Instructions for Sous Vide Hanger Steak with Succotash
For the Hanger Steak
Preheat a water bath to 131°F (55°C).
Lightly salt the hanger steak then sprinkle with the steak seasoning. Place the steak in a sous vide bag then seal the bag and cook for 2 to 4 hours.
For the Succotash
Heat some olive oil in a pan over medium-high heat. Place the red onion in the pan and cook until it starts to soften. Add the garlic and poblano peppers and cook until the poblano pepper is tender. Add the corn and lima beans and cook until the lima beans are tender. Add butter and let it melt. Juice the lime into the pan and mix well to combine.
To Assemble
Remove the cooked steak from the bag and dry the meat well. Quickly sear the steak then cut it into serving sections.
Place a few spoonfuls of succotash on a plate then top with the steak. Sprinkle with some fresh basil, then lightly salt.
Don't forget to sign up!
Find out early about all upcoming promotions and new products releases
Name:

Susan
Tel:

86-755-23312936
Email:
Address:

2/F, Building C, Min Le Industrial Park, Minzhi, Long Hua District, Shenzhen, China