Sous Vide Turkey Breast Recipe with Roasted Apples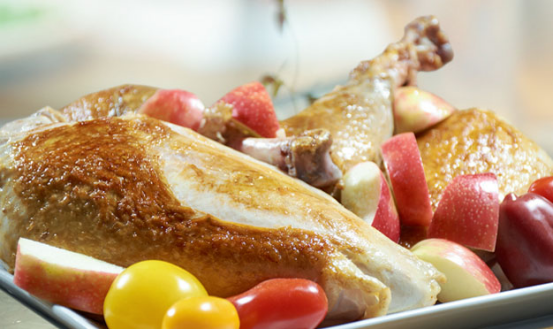 If you are looking for super-moist, tender turkey breast then it's really hard to beat sous vide turkey. There's a definite art to properly roasting an entire turkey and getting every part to turn out perfectly cooked, and it's something that's always hit or miss for me. Once I switched to sous vide turkey breast, I make awesome turkey every time.
You have several options for the turkey breast meat itself. My favorite is to cook it at 140°F (60°C) for 4 to 8 hours which I think results in the best combination of "moist but cooked" so it's what I often go with.
For the Sous Vide Turkey Breast:
Preheat the sous vide water bath to 140°F (60°C).
Salt the turkey breasts and add to a sous vide bag. Remove the zest from the lemon, using a vegetable peeler or zester and place into the bag on the turkey breasts. Add the sage leaves to the bag then seal it.
Cook the turkey breasts for 4 to 8 hours, or at a minimum, until they are pasteurized.
For the Roasted Apples:
Preheat an oven to 400°F (204°C).
Remove the stem and seeds from the apples then cut into eights. Toss the apples with the sugar, cinnamon and cloves. Take a baking sheet with a rim and spread the apples out in a single layer. Bake until tender, about 30 to 40 minutes, flipping the apples after 20 minutes.
To Assemble:
Once cooked, remove the cooked turkey breasts from the sous vide bag and pat dry. Lightly salt the outside then quickly sear them until just browned. You can serve the turkey breasts whole or cut them into slices.
Spoon the apples on a plate, set the turkey breasts around it and garnish with cherry tomatoes.
Don't forget to sign up!
Find out early about all upcoming promotions and new products releases
Name:

Susan
Tel:

86-755-23312936
Email:
Address:

4/F, Min Le Technology Building, Min Le Industrial Park, Minzhi, Long Hua District,Shenzhen,China