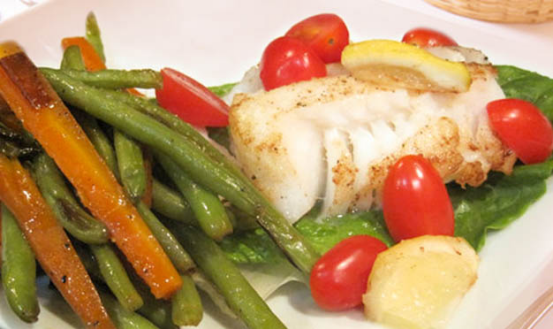 Prep Time: 30 Minutes
Total Time: 45 to 60 Minutes
Cooks: 132°F (55.6°C) for 15 to 30 Minutes
Serves: 4
Most of the sous vide I cook is focused on meat and chicken but sometimes I like to mix it up and do some fish. Here is a sous vide cod recipe that comes out nice and tender with a light flavor perfect for summer.
To season the sous vide cod I simply used some ground cumin and butter or olive oil but you could also add some garlic powder or even some chile powder for extra flavor. I also sear the cod once it comes out of the pouches but you can also serve it unseared.
Here I served it simply with some seared lemon and a few cherry tomatoes with a side of sauteed carrots and beans but you could serve the sous vide cod with something heavier if you wanted.
For the Sous Vide Cod
4 cod portions
1/2 teaspoon ground cumin
2 tablespoons butter or olive oil
Salt and pepper
For the Vegetables
2 tablespoons olive or canola oil
8 carrots, peeled and cut into sticks
10 ounces green beans, cleaned and trimmed
4 gloves garlic, minced
Salt and pepper
For the Garnish
8 lettuce leaves
1 lemon, cut into eighths
16 cherry tomatoes, halved
For the Sous Vide Cod
At least 45 to 60 minutes before serving
Preheat the water bath to 132°F (55.6°C).
Salt and pepper the cod and sprinkle with the cumin. Place the cod in the sous vide pouches, add the butter or olive oil, and seal. Place in the water bath and cook the sous vide cod for 15 to 30 minutes.
For Finishing
While the cod is cooking work on the sides.
Preheat a pan to medium or medium-high heat and add a tablespoon of oil.
Add the carrots to the pan and cook until they begin to soften, stirring occasionally, for about 7 minutes. Add the green beans and garlic and cook, stirring occasionally, until the beans are tender, about 7 minutes.
As the beans are finishing take the sous vide cod out of the pouches and pat dry. Remove the vegetables from the pan and set aside on individual plates. Add the cod to the pan just long enough to develop a light crust, about 1 minute per side. Remove from the heat and place on a serving plate on top of the lettuce.
Add the lemon pieces to the pan to quickly brown them, about 2 minutes. Add the lemon pieces to the top of the cod along with the cherry tomatoes. Drizzle with some of the juices from the pouch and serve.
Don't forget to sign up!
Find out early about all upcoming promotions and new products releases
Name:

Susan
Tel:

86-755-23312936
Email:
Address:

4/F, Min Le Technology Building, Min Le Industrial Park, Minzhi, Long Hua District,Shenzhen,China