Sous Vide Barbacoa Beef Recipe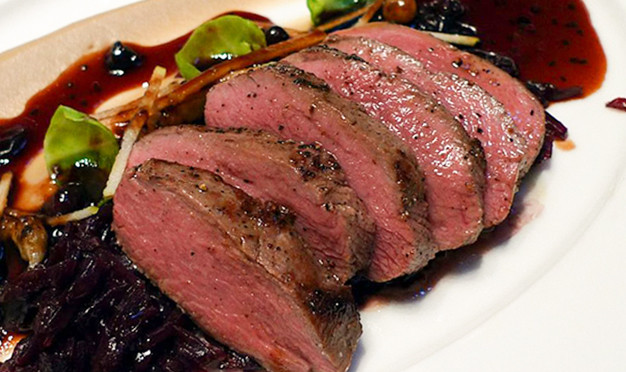 Ribeye Steak With Red Wine Reduction
YIELD: 4 servings // ACTIVE TIME: 30 minutes // TOTAL TIME: 1-4 hours
● 2 (1 1/2- to 2-inch thick) ribeye steaks
● Salt and freshly ground black pepper
● 2 tablespoons olive oil
Red wine reduction
● 4 large shallots, peeled and sliced
● 12 whole black peppercorns
● Splash of red wine vinegar
1. Preheat water bath to 134ºF (57ºC)
2. Season the steaks on all sides with salt and pepper.
3. Put the steaks in a vacuum seal or zip-top bag along with the herbs and seal.
Meanwhile, prepare wine sauce:
1. Heat 2 tablespoons oil in a saucepan and add shallots with the peppercorns, bay and thyme and continue to cook for about 5 minutes, stirring frequently, until the shallots turn golden brown.
2. Add the vinegar and let simmer for a few minutes until almost dry. Add the wine and boil until almost completely reduced. Add the stock and bring to a boil again. Lower the heat and simmer gently for 1 hour, occasionally skimming the surface of the sauce. Strain the liquid through a fine sieve. Season with salt and pepper to taste.
1. Heat a stainless steel or cast iron skillet over medium-high heat and add the remaining butter and pour the cooking liquid and herbs from the bag into the skillet.
2. When the bubbling slows down add the steak to the skillet for 30 seconds on all sides.
3. Cut into thick slices, drizzle with wine sauce and serve.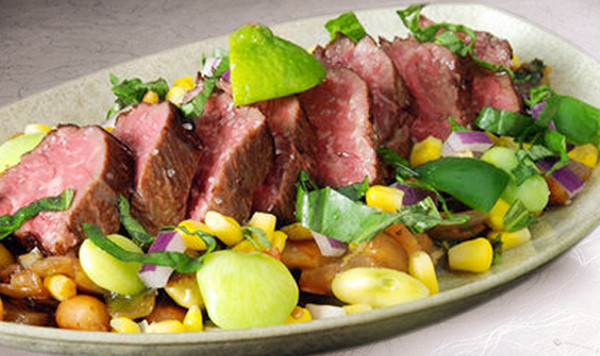 Hanger Steak with Succotash
This recipe showcases how simple it is to cook a tender cut of steak with sous vide. I use hanger steak in this example, but it works equally well with other tender steaks such as filet, ribeye, or strip steak.
In this recipe you can also use cuts of medium-toughness such as sirloin or flank steak, though because they are a little tougher, you can increase the time they cook for a more tender steak.
I pair it with a simple succotash, but you can use any sides you traditionally like to serve with sous vide steak.
2 pounds hanger steak (900 grams)
1/4 teaspoon steak seasoning or chili powder
Preheat a water bath to 131°F (55°C).
Lightly salt the hanger steak then sprinkle with the steak seasoning. Place the steak in a sous vide bag then seal the bag and cook for 2 to 4 hours.
Heat some olive oil in a pan over medium-high heat. Place the red onion in the pan and cook until it starts to soften. Add the garlic and poblano peppers and cook until the poblano pepper is tender. Add the corn and lima beans and cook until the lima beans are tender. Add butter and let it melt. Juice the lime into the pan and mix well to combine.
Remove the cooked steak from the bag and dry the meat well. Quickly sear the steak then cut it into serving sections.
Place a few spoonfuls of succotash on a plate then top with the steak. Sprinkle with some fresh basil, then lightly salt.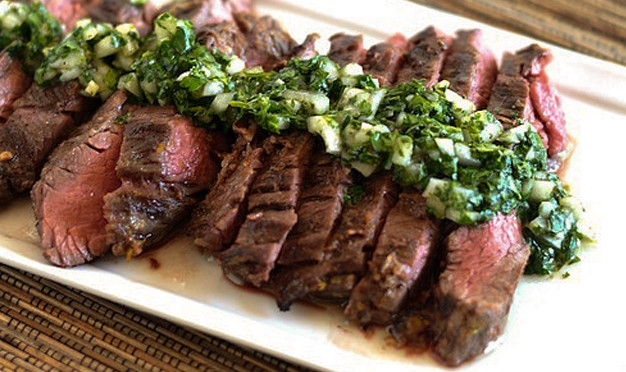 Flank Steak With Chimichurri Sauce
YIELD: 8 servings / ACTIVE TIME: 5 minutes / TOTAL TIME: 2-24 hours
INGREDIENTS:
● 2 tablespoons red wine vinegar
● 2 teaspoons garlic powder
● ½ teaspoon freshly ground black pepper
For the chimichurri sauce:
● ½ cup red or white wine vinegar
● 4 cloves garlic, minced
● 1 shallot, finely chopped
● ½ cup minced fresh cilantro
● ¼ cup minced fresh flat-leaf parsley
● 2 tablespoons finely chopped fresh oregano
● ¾ cup extra-virgin olive oil
● ¼ teaspoon red pepper flakes
● Salt and freshly ground pepper
DIRECTIONS:
1.Preheat water bath to 134ºF
(57ºC).
2.Whisk together the marinade ingredients and add to a large zip-top bag with the steak.
3.Seal bag using the displacement method.
4.Add to water bath and cook for 2-3 hours and up to 24.
Make the chimichurri sauce:
1.Combine vinegar, 1 tsp. salt, garlic, shallot, and red pepper flakes in a medium bowl and let stand for 10 minutes.
2.Stir in cilantro, parsley, and oregano and whisk in oil.
1.After cooking, remove the steak from the bag to a paper towel-lined plate and pat dry (but don't wipe off the marinade).
2.Heat a grill or skillet until smoking hot and add steak.
3.Sear quickly on each side to get a nice dark crust.
4.Remove to a cutting board and slice against the grain into ½" slices.
5.Top with chimichurri sauce.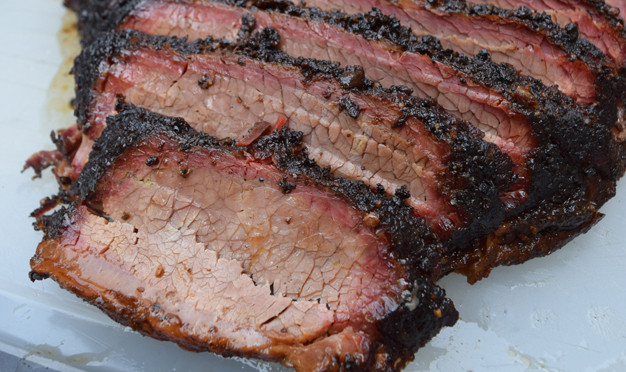 Barbecue Beef Chuck
YIELD: 8 servings servings/ACTIVE TIME: 15 minutes/TOTAL TIME: 12 hours
INGREDIENTS:
● Beef Chuck (4-5lb)
● Liquid smoke
● Mesquite Spice Rub
DIRECTIONS:
1. Pre-heat water bath to 145ºF(63ºC).
2. Pat beef dry on all sides.
3. Heat one tablespoon of oil in a large cast iron or stainless steel skillet until oil is almost smoking.
4. Place the beef in the skillet and turn to get even color on all sides.
5. Remove from heat and season liberally with spice rub on all sides.
6. Add the beef chuck and a few dashes of liquid smoke to the bag.
7. Seal the bag either using a vacuum-sealer or displacement method. If using zip-top bags, I recommend double-bagging.
8. Place the bag in the water bath and cook for 12 hours.
9. Remove the beef from the bag and place on a paper towel-lined plate and pat dry on all sides. Discard juices or reserve to use in pan sauce.
10. Sear on a hot grill or cast iron pan.
11. Slice and serve.
Don't forget to sign up!
Find out early about all upcoming promotions and new products releases
Name:

Susan
Tel:

86-755-23312936
Email:
Address:

4/F, Min Le Technology Building, Min Le Industrial Park, Minzhi, Long Hua District,Shenzhen,China